IMEM Students 2019-2021 Batch Meetup
清华大学MEM教育中心
On January 13th, 2022, a total of 30 IMEM students of the 2019-2021 cohorts sat behind their computers for an online class meetup. Everyone was asked to prepare a few pictures of their daily lives and discuss them during the meeting. Some students wereworking on internships or were active in one of Tsinghua's student associations. Other students were working on their theses or just on regular coursework. All in all, it was fascinating to see how different everybody's life is at this point.
Student Experiences
Jesse Efraim Silva Guimaraes
Jesse Efraim Silva Guimaraes, a Tsinghua IMEM 2021 cohort student from Brazil studying in China, shared some of his experiences in the Tsinghua Campus. In September 2021, Tsinghua Global Summer School recognized Jesse\'s project with the Outstanding Team Award. Later in October, he met the Vice President of Tsinghua, Mr. YANG Bin, and Directors from different departments. Also, in October, he was invited to the Latin America Annual Meeting when he discussed with Ambassadors from 23 countries. Furthermore, Jesse enrolled in courses from departments such as Public Policy, Economics, and Environment School to enhance strategical thinking comprehensively. Besides, he attended Carbon Neutrality Global Conference.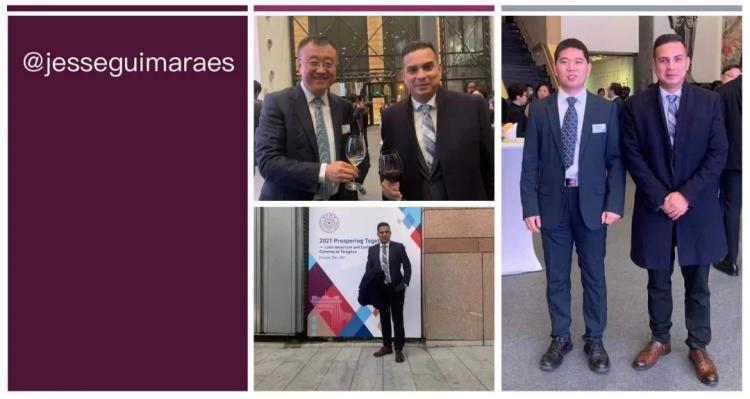 As there is the spirit of "No Tsinghua without sports", Jesse Guimaraes became a Fencing and Bow & Arrow Clubs member, training on Tsinghua Campus; and joined the THU AI Association. During the first semester, based on Ergonomics and Systematic Product Design and Development courses, he developed a Shared-Service mobile application initially launched in 2022 Jan for Latin American countries. Jesse had already completed 50% of all required credits by the end of the first semester. During the 2022 winter vacation, he is doing an internship in the Biotechnology industry, creating mathematical prediction models and designing systematical processes for the Latin American market.
Chong Hon Fong (Jerry)
‍‍‍
Chong Hon Fong (Jerry), a Tsinghua IMEM 2021 cohort student fromMalaysia, shared some of his experiences studying remotely. In November 2021,he participated in SDG Open Hack 2021 @ Tsinghua with a team consisting of DataScience Ph.D. students based in Tsinghua Shenzhen International Graduate School(Tsinghua SIGS). He proposed an innovative solution, "Big Data Recommendation Car Park Sharing Portal". Despite the tight study schedule in the first semester, he is always keen to explore and participate in more virtual and online activities besides IMEM courses. He is also a Core Member of the Tsinghua University Blockchain Association (THUBA) and participated in a few events.In the meetup, he also shared some insight on places including KL Tower and Merdeka 118 in KualaLumpur.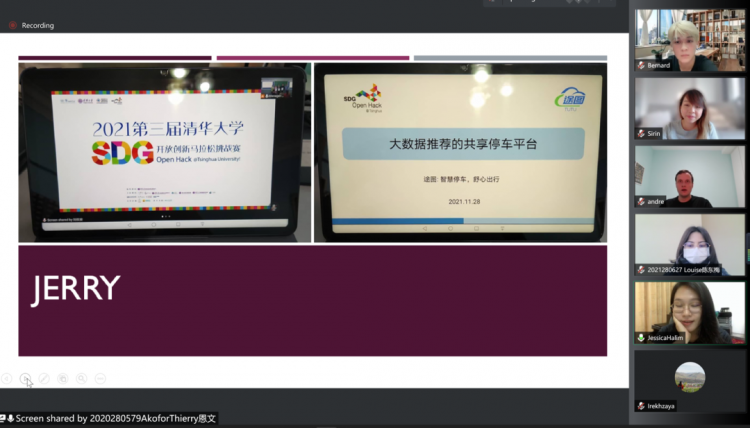 Louise Villette
Louise Villette, a Tsinghua IMEM 2021 cohort student from France, is also a remote student. Her first semester consisted of very early morning classes at home, Kungfu classes for physical exercises, and pleasant walks in Paris for relaxation. She shared that this meeting made her realized that online students had a lot in common despite living in diverse places and various working environments, especially considering time zone challenges, the lack of interactions with the Tsinghua community, and the little connection to the Chinese culture. Nonetheless, the online classes were an enriching journey for her studies. The IMEM administration, the professors, and their TAs were always attentive to the requests and difficulties of the students. She said it has helped her find her bearings and focus on learning new things. She was also grateful for the enjoyable online tools, class setups, and valuable group works and homework that significantly broadened her knowledge and skills. Lastly, she was delighted to get to know her classmates better through this meeting.
A few European students, such as Timothe from the IMEM 2021 cohort, decided to move to Thailand and attend online classes from the tropical country they may temporarily call home. Students shared their experiences and advice during the meetup.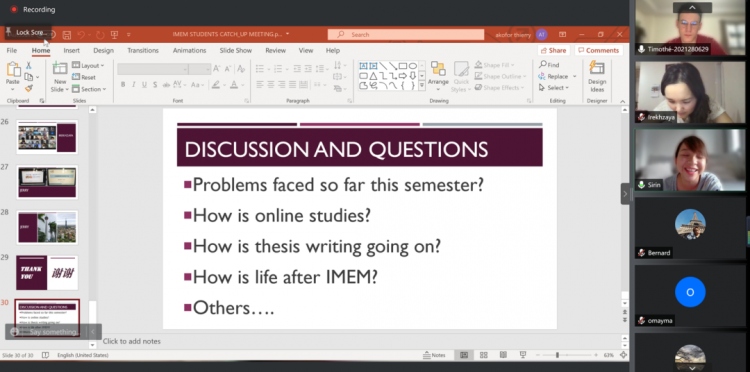 Besides casual talk about our daily lives, students were also allowed to share some of the difficulties and problems they faced in online classes. For example, Chong Hon Fong shared some difficulties in accessing physical books from the library and mechanical workshop facilities, such as drilling machines and lathed machines on fabricating prototypes for some courses. Without suitable facilities at home, it\'s complicated to fabricate the prototype as some devices are needed for making a good prototype.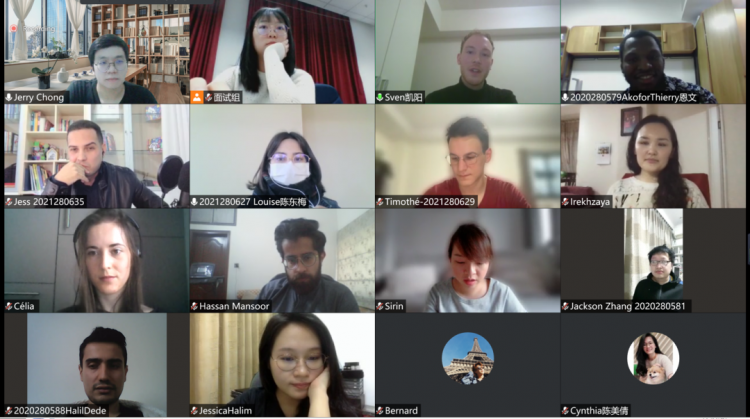 The meetup was a unique chance for new students to meet a few of their seniors and ask them questions, for example, about thesis preparation and writing. In addition, the administrator of IMEM program offered some advice and scheduled follow-ups lectures to support current students in their future thesis writing. The session ended with a group picture and the idea to meet up again in the incoming Spring Semester.
Writer: Sven Klinkhamer, Chong Hon Fong
Photo: Rui Lu, Chong Hon Fong
Editor: Haitao Wang, Rui Lu, Lu Yang, Zhizhong Li
编辑:葛格
(本文转载自 ,如有侵权请电话联系13810995524)
* 文章为作者独立观点,不代表MBAChina立场。采编部邮箱:news@mbachina.com,欢迎交流与合作。
热门推荐
备考交流
免费领取价值5000元MBA备考学习包(含近8年真题)
购买管理类联考MBA/MPAcc/MEM/MPA大纲配套新教材
扫码关注我们
获取报考资讯
了解院校活动
学习备考干货
研究上岸攻略